George W. CLEVELAND 1916-1984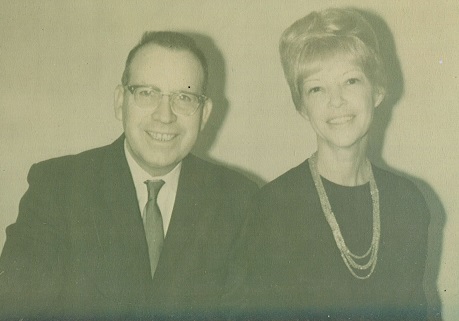 Born October 27, 1916 in Bisbee, Cochise County, Arizona, the first son of William Jasper and Helen Lucille Cohen Cleveland.
George grew up on the Oak Thicket Ranch near Bisbee, Arizona, working at a young age as a cowboy.
When George was just a year old, his brother James K was born. By the time George turned 8 years old, the family consisted of father, mother and 5 boys: George, James K born 1917, Calvin Henry born 1919, Charles Thomas born 1920, and Robert L born 1924.
According to the 1930 Federal Census, the family was living in Bisbee, Cochise County, Arizona: William CLEVELAND age 50, Rancher; spouse Helen age 30, Children: George age 13, James age 12, Calvin age 11, Thomas age 9, Robert age 6. Youngest brother Walter was born in 1931.
In 1933, George's mother left the family, taking the two youngest boys, Robert and Walter, with her to her mother's house in Bisbee. (Read more about her story on the Helen Cohen page.)
The 1940 Federal Census shows George, at age 23, living on the Watling farm, Pine Town, Gila County, AZ, working as a cowboy on a cattle farm.
Later the same year George completed a WWII Draft Registration card, listing his mailing address as Rt. 6 Box 1080 c/o Slim Ahlquist, Phoenix, AZ. His employer is listed as Wm. B. Watling, Payson, AZ.
George's father moved to Yuma, AZ in 1946, and died about a year later. George Cleveland is listed as the informant on the death certificate, with an address of Box 1205, El Centro, California.
May 8, 1948 George married Mary Boyce (born 16 Sep 1920 in Leon, Iowa) in Arizona.
In 1951 George and Mary moved to Ajo, Arizona.
George and Mary were both interested in helping young people and together they assisted many teenage boys during their high school years.
During his lifetime, George was a member of the Elks, the National Rifle Association and the Santa Fe Gun Club. He was also a charter member of the Ajo Roping Club. George was a flotation operator with Phelps Dodge Corporation in Ajo, Arizona when he retired.
The photo at left is Mary and George with a niece and nephew in 1982.
George W. CLEVELAND, at age 67, died June 26, 1984, at St. Joseph's Hospital and Medical Center in Phoenix. Survivors include his wife, Mary Boyce CLEVELAND; and four brothers.
Rosary and mass were held at Immaculate Conception Catholic Church, June 28, 1984, at 6:00 p.m. Graveside services at 9:00 a.m., June 29, 1984 at AJO Cemetery. Pallbearers were Robert L. CLEVELAND, James K. CLEVELAND, Calvin H. CLEVELAND, Walter G. CLEVELAND, Ralph C. BOYCE, Gerald T. WILEY and William J. WILEY and William J. BARRICK.
George's wife, Mary BOYCE CLEVELAND, died early Sunday morning, October 6, 1991, at age 71, in the Arizona Pioneer Home in Prescott, Arizona.