Calvin Henry CLEVELAND 1919-2000
Born March 18, 1919 in Bisbee, Cochise County, Arizona, the third son of William Jasper and Helen Lucille Cohen Cleveland.
Calvin, or Cal, grew up on the Oak Thicket Ranch near Bisbee, Arizona.
When Cal was just a year old, his brother Charles was born. By the time Cal turned five years old, the family consisted of father, mother and 5 boys: George born 1916, James K born 1917, Calvin Henry born 1919, Charles Thomas born 1920, and Robert L born 1924.
According to the 1930 Federal Census, the family was living in Bisbee, Cochise County, Arizona: William CLEVELAND age 50, Rancher; spouse Helen age 30, Children: George age 13, James age 12, Calvin age 11, Thomas age 9, Robert age 6.
The youngest brother Walter was born in 1931.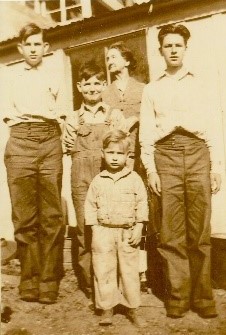 In 1933, Cal's mother left the family, taking the two youngest boys, Robert and Walter, with her to her mother's house in Bisbee. (Read more about her story on the Helen Cohen page.)
The photo at left was taken about 1934, from left is Calvin, Bob, Grandmother (Cohen) Potter, and Charles, with Walter in front.
The 1940 Federal Census shows Calvin Cleveland, age 21, living as a lodger with Pleasant and Erma Phears in Cochise Row, Bakerville, Cochise Co., AZ, working as an assistant mechanic at a retail garage.
Cal's father moved to Yuma, AZ in 1946, and died about a year later. Calvin stayed in Bisbee for a while longer - the 1951 Bisbee District Directory shows Calvin as a mechanic at Southern Arizona Auto Company.
Cal Cleveland died May 25, 2000 at the Oak Thicket Ranch, Bisbee, A, and is buried in Phoenix, Arizona.